My Year in Books: 2019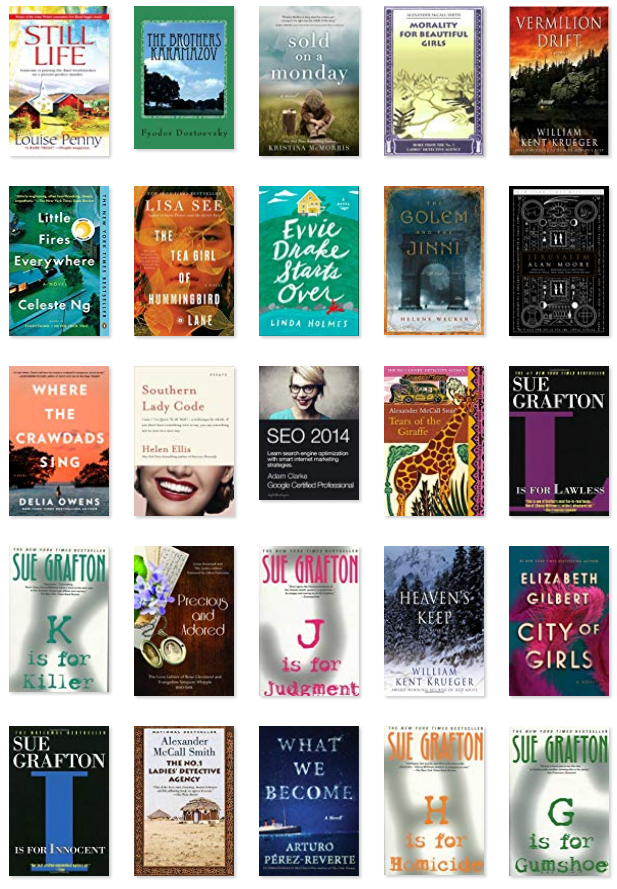 According to my tracking on Goodreads, I read 165 books in 2019. I'll be the first to admit that there is some literary fluff in there, but they can't all be War and Peace, right? But, one of them actually was and another was The Brothers Karamozov.
A Serial Year
Having finally started Elizabeth George's Inspector Lynley books late in 2018, I devoured the rest this year and have now joined the ranks of her fans waiting impatiently for the next installment. (Please, someone take her website in hand and bring at least into the current century.) George's writing is masterful and her vocabulary keeps me on my toes. She creates characters that I find absolutely irresistible.
Along the same lines, I started Louise Penny's Inspector Garmache series. Even though I have to suspend disbelief over the extraordinary number of murders that plague the tiny Quebec village where most of the books are set, I'm utterly charmed by the characters and I'm trying to savor these books so I don't catch up to the author's production too soon.
At my mother's suggestion, I took the Sue Grafton plunge and have made it to the letter L in her Kinsey Millhone books. I find these are perfect fodder for audio. They are read well, and I enjoy these characters quite a bit.
Then there's Janet Evanovich's series staring Stephanie Plum. They're amusing and the on-again-off-again romances with two hunky guys are cute, but these definitely fall in the fluff category. The character development is non-existent and I got bored watching the girl keep making the same mistakes and keep getting bailed out by one of the guys. I may eventually pick up the new book in the series, but I'm in no hurry.
A Sense of Place
Being new to Minnesota, I sought out fiction that could teach me more about my new home. My first score was William Kent Krueger's Ordinary Grace and I fell in love with his writing. I was thrilled to find he has a series set in northern Minnesota through which I have learned about the cultures of the state. The character development and storytelling in the Cork O'Connor books is exceptional to the point that I often forget I'm reading a mystery. I always want more of his people. My signed copy of his latest stand-alone novel This Tender Land is on the top of my to-be-read pile.
I was also delighted to encounter the writing of another Minnesotan. Louise Erdrich's latest novel blew me away. I have never been a fan of dystopian fiction, so I'm still stunned to say The Future Home of the Living God is one of the best books I read in2019. It is set in the near future and near the Twin Cities.
A Global View
I also expanded my knowledge of the world thanks to novels such as Pachinko by Min Jin Lee and The Tea Girl of Hummingbird Lane by Lisa See. Both of these excellent books opened my eyes to cultures and histories I was completely clueless about. Tea Girl also introduced me to the pu-erh tea I have grown quite fond of. Pachinko is set in Japan among the Korean population there. The clash of cultures is stunning.
I wandered into Botswana with Alexander McCall Smith's cozy mysteries. The No. 1 Ladies Detective Agency series is excellent audio book material and the stories are a delightful way to learn about a fascinating culture. It's come in handy for me as one of my clients is expanding his business in Africa.
While the family I met in the Nigeria-based My Sister, The Serial Killer isn't typical of that country, I did get an education in the culture's expectations of family roles, particularly those for women. I wasn't as blown-away by this first novel from Oyinkan Braithwaite as others were, but it was eye-opening.
Quotables
Last spring, not long after I learned that my dear friend George had been diagnosed with terminal cancer, I read Chloe Benjamin's The Immortalists. The timing was sublime. I thoroughly enjoyed the book, but one line struck me then because it described perfectly how I was feeling as I contemplated losing my friend. After George died this fall, I shared the quote widely and thanked the author for providing words for feelings I was struggling to articulate.
The brilliant young poet Ocean Vuong's first novel On Earth We Are Briefly Gorgeous is the most lyrical work of fiction I've ever encountered. After reading just the first couple of pages, I set it aside for when I knew I'd have uninterrupted time to read it all in just a couple of sittings. Almost every line is quotable and the story is beautiful. I keep the book on my desk and often open it to a random page to dip in to the poetry of it.
Knocked My Socks Off
In addition to the standouts I've already mentioned, there were a few more books that stood out for me this year.
Keep an eye on Casey Cep. Her nonfiction skills rival Erik Larson's, and I do not say this lightly. Furious Hours: Murder, Fraud, and the Last Trial of Harper Lee is fascinating and written with such a clever, witty touch, I simply couldn't put it down. I can't wait to see what she writes next.
Rebecca Makkai's The Great Believers is the book that I am pushing into the hands of anyone who shows the slightest interest in reading anything. Family, friendship, art, love, loss: it's all there and it's beautifully written.
I've already raved about Tayari Jones's An American Marriage here on my blog. It, too, is a must-read.
Coming Attractions
In 2019, I also started reading books for pre-publication reviews. Thanks to that, I have a couple of suggestions for your reading in 2020.
I already posted a review of my friend Chris Bohjalian's next book. The Red Lotus will be out in March and, as usual, you will not want to miss it. I hope I'll get to see Chris in the Twin Cities on the book tour!
One of the last books I read in 2019 was an advanced reader's copy of Janice Kaplan's The Genius of Women: From Overlooked to Changing the World. It's terrific and a must-read. It'll be out in February and my review will be here on my site soon.
Next up for me in this department is the forthcoming memoir by another friend of mine, Francois Clemmons. He was Officer Clemmons on Mr. Rogers Neighborhood, so his memoir is appropriately titled Officer Clemmons. It is due out in May this year. I promise an objective review here very soon.
Speaking of which, I have promised myself to write more this year. For starters, I will do at least one review each week right here on HerMutter.com. I hope you'll stay tuned.